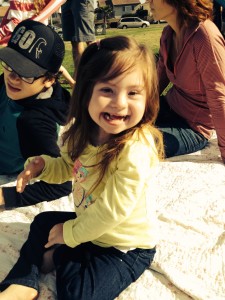 I was formulating a post in my head around midday Sunday of this past weekend.  And the super abridged version of what it was going to say went a bit like this:  I think my days of traveling overnight we the girl, are done.  Its just too difficult.  She has gained 10 pounds in the last year.  Grown 4 inches.  Changing diapers on the go and putting her on the portable potty, in the car, is difficult. Sitting on the aforementioned potty while the car is in motion, during long car rides to feed her her food or gtube feed her is extremely difficult.  Not to mention, a tad bit dangerous.  Eating out in restaurants due to her sensory issues is difficult.  Putting her to sleep in a hotel, is, yep, you guessed it, difficult.  It all, can be so, so very, very difficult.  And although I am not one to be known to shy away from difficulty, I think I am going to opt out.  Take the path of least resistance and forego family weekends to soccer tournaments or anything similar.  My husband can do the guy thing, take the boys on these weekends and me and the wee one, can hang back at home and yeah, I am out.
So that was the long and short of what I had in my head.  Post didn't happen because around about time I was formulating it all in my head, I received a message from a friend, letting me know that a dear friend of hers, a fellow blogger and a mom who I had met once myself, had unexpectedly lost her beautiful daughter the night before.  Just like that.  Basically no warning.  One day, your child has what appears to be a simple cold.  A run of the mill virus and then, with no rhyme or reason, gone.  But here's the thing.  If you are parent to a complicated and fragile child, no cold is simple and no virus is run of the mill.  Colds, viruses, and fevers can go south quickly.  Seemingly simple colds and viruses can kick up seizure activity.  They can bring about a whole host of other things that to the typical population, would be managed and gone in no time.  Not with our children.
And just as I was trying to process that heartbreaking news, more crappy news arrived on it's heels.  Our good friends, Bill and Victoria, mom and dad to the amazing Gwendolyn, posted that after being admitted to PICU late last week, after roller coaster days and nights, the difficult decision to intubate Gwendolyn, had been made. Devastated.  I was completely devastated for them.  For sweet G.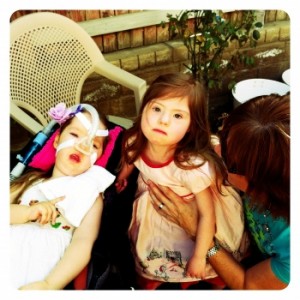 Seems like my reality checks often comes at the expense of others.  I am certain there have been times when my own family has served as the reality check for people as well.  But I hate that it has to go down that way.  That the pause we take in our busy and hectic and yes, some of our difficult lives, comes in some of these heart wrenching moments.  I just hate it.
So while I am able, I am going to go on those weekends.  And be grateful that at the age of  nearly 7, I can still put her in the backpack.  That when I can't bring her wheelchair along, that she still fits in the stroller.  That despite all the difficulty, the planning, the adapting environments and altering the norm and comfort and security I feel when I manage her at home, despite it all, I will just keeping moving.  I have been told many times over the years, "I just don't know how you do it.".  I have never much cared for that statement.  I am sure is was meant as some form of a compliment but honestly, what should I have done and what should I continue to do?  Curl up in a ball.  Not get out of bed on some days.  Drink heavily.  Give up.  I know people do.  I just can't.  So we do what we do, because honestly, to most of us living in the trenches, there is no other way.  What a disservice and dishonor to our children, all of our children, typical and otherwise, the giving in and giving up would be.
Surrendering sounds appealing sometimes.  Easier to look for the open door.  The escape route.  But because the runaway scenario is not based in reality, surrender comes in other forms.  Surrender comes instead in our quiet and still moments.  when we are all alone.
Suck it up buttercup, is what I told myself after the events of the last few days. And suck it up I will.  Pray, if that is something you do.  Pray and send love and light to two families who sure could use it right now.  I know that they would truly appreciate it.